SSL certificates enhance internet security, and thus provide a better user experience to users. This is why every website needs an SSL certificate, and Truehost offers different option for this, including the traditional SSL certificates and Let's Encrypt SSL certificates. Recently, web browsers are requiring sites to have SSL certificates installed, and thus an SSL certificate is required more than ever.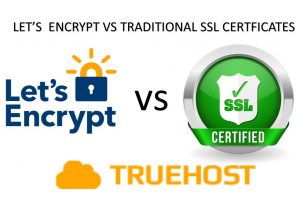 Comparing Traditional and Let's Encrypt SSL Certificates
In the recent past, the use of Let's Encrypt SSL has been on the rise, making it one of the most popular SSL certificate offered by Truehost and other players in the world. How does it compare with other paid SSL certificates like the ones offered by DigiCert, Comodo and Ask SSL? Here is a detailed comparison of Let's Encrypt against traditional SSL certificates.
Let's Encrypt SSL certificates are free of charge. Other certificates cost some money, starting from KES 1000 per year.
Both standard SSL certificates and offer a good level of encryption, making your data safe. However, the traditional SSL certificates further insure you against data bleach, by offering specifying an amount of money that you are insured for. This means that if your website is compromised and it was the certificate authority which failed you, you will be paid.
Let's encrypt certificates simply encrypt the data, but nothing more than that. Traditional SSL certificates offered by Truehost can do way much more than that. There are wildcard SSL certificates that can cover multiple domains, organisation validated SSL certificates and even extended validation certificates that show the name of the company on the address bar. This is one major advantage for the traditional SSL certificates
There are several Certificate authorities that issue SSL certificates. These have a process that one follows to get the certificate, while some certificates like the extended validation certificate have rigorous processes that require even physical verification of the organisation that is acquiring the SSL. Domain validated certificates are generated easily from the Certificate Authority.
Let's Encrypt has an automated process of issuing the certificate, making it much easier and faster.
The process of renewing an SSL certificate is tedious. Let's encrypt has automated the process, although in some cases, the renewal must be done manually.
However, a Let's Encrypt certificate needs to be renewed every ninety days, whereas other certificates are renewed after a period of 1 to three years.