Selling shoes online in Kenya is a great business opportunity, especially with the rise of e-commerce and internet connectivity across the country. More Kenyans are shopping online for convenience and competitive prices.
If you can set up an online shoe store, you can tap into this growing market.
This article will provide tips on how to successfully sell shoes online in Kenya.
Step 1: Choosing a Shoe Niche
The first step is deciding on a shoe niche to focus on. Some options include:
Sports shoes – There is high demand for quality athletic and running shoes. Brands like Nike, Adidas and Puma are popular.
Casual shoes – Everyday sneakers and flat shoes have a steady market in Kenya. Target both men and women.
Work shoes – Leather shoes and smart boots appeal to professionals and working Kenyans.
Children's shoes – Parents are looking for cute and durable kids' shoes. Emphasize bright colors and comfort.
Safety shoes – Industrial work shoes and boots are needed by laborers, factory workers etc. Focus on protection and traction.
Specialty shoes – There are smaller niches like golf, hiking or orthopedic shoes. Pick one to specialize in.
Consider seasonality when selecting your niche.
For example, demand for rain boots rises during rainy seasons.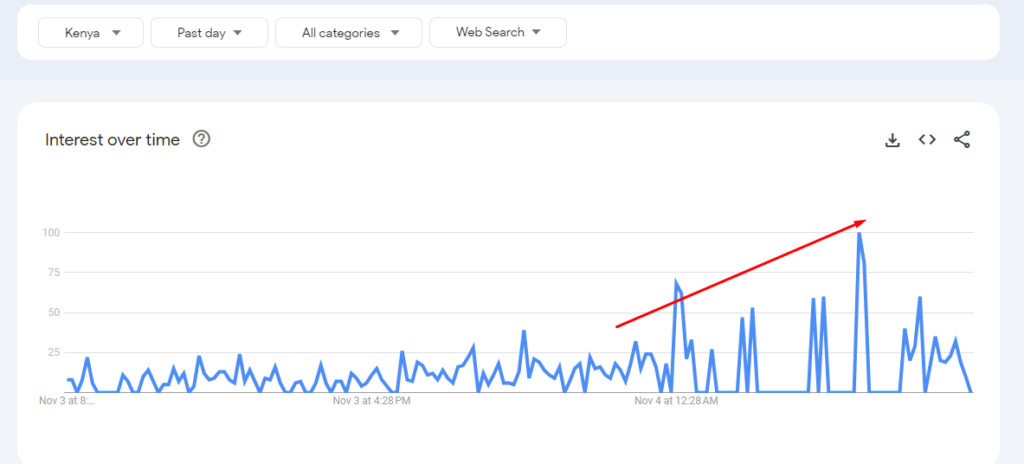 Analyze Google Trends to identify rising searches.
Once you've selected a niche, focus on selling 3-5 shoe models within it. Having a small collection makes inventory and logistics easier to handle. You can expand the catalog once operations are smooth.
Step 2: Setting Up an Online Store
Here are key steps for creating your Kenyan shoe e-commerce site:
Choose an e-commerce platform – Shopify and WooCommerce are popular options that make setting up online stores easy.
Get a domain and hosting – Choose a domain name related to your shoe niche e.g. sportsshoes.co.ke. Get reliable hosting.
Design your storefront – Use professional themes and customize the look. Showcase shoes attractively.
Add shoe products – Take appealing photos and write compelling descriptions of each shoe. Include specs like size, material etc.
Integrate payment systems – Offer payment options like M-Pesa, Visa cards and cash on delivery. Use systems like PayPal.
Manage inventory – Link your store to a stock management system. Update inventory levels in real-time.
Set up shipping – Partner with couriers like G4S and provide estimated delivery timelines. Calculate shipping costs accurately.
Market your store – Create social media accounts and run targeted ads. Get local influencers and bloggers to review your shoes.
The goal is making your online shoe shopping experience seamless for customers. Keep improving the store based on user feedback.
Step 3: Sourcing Shoe Inventory
Purchasing shoe inventory at competitive rates is key to maintaining profit margins. Here are some inventory sourcing tips:
Import wholesale – Importing shoes in bulk directly from manufacturers abroad reduces costs. Source from shoe manufacturing hubs like China, Vietnam, or India.
Local suppliers – Develop relationships with local shoe distributors, wholesalers and factories to get inventory. This avoids import duties and delays.
Manufacturers – Approach manufacturers like Bata, Umoja or City Shoes and discuss custom production runs of popular shoe models. This ensures unique designs.
Overseas deals – Attend international shoe trade fairs to find suppliers and negotiate deals. Places like China Footwear Expo are great for buying contacts.
Factory overruns – Sometimes you can find deals on overproduced shoe stock and seconds from factories. These are functional shoes sold at big discounts.
Second-hand shoes – For some niches like collectible sneakers, source gently used shoes from local sellers. Refurbish and sell as vintage.
Closeout deals – Stores liquidating old stock often have closeout sales. Buy this inventory in bulk for your store.
Always inspect shipments thoroughly and buy samples first when dealing with new suppliers. Check for quality and alignment with your brand.
Step 4: Pricing Your Shoes
Setting the right prices is crucial for succeeding with your online shoe business in Kenya. Here are some tips on pricing:
Compare competitor prices – Research prices of similar shoes sold by other online and physical stores. Use tools like PriceCheck.
Factor in operational costs – Your pricing must cover the cost of the shoes, shipping, storage, marketing etc. and still make a profit.
Consider sales margins – Typical retail margins on shoes are 100-200%. Wholesale margins are lower at around 50%. Price accordingly.
Set competitive prices – Your prices shouldn't be drastically higher or lower than competitors. Being in the same ballpark builds trust.
Offer discounts – Strategic promotions like first-time buyer discounts encourage sales. Just ensure you still make a profit after discounts.
Use psychological pricing – Odd prices like KES 2,999 seem more attractive than round figures like KES 3,000.
Bundle products – Offer shoes as bundled pairs at a slight discount compared to buying individually.
Mark down old stock – Discount slow-moving items to clear space for new inventory.
Charge premium for exclusives – If you have rare, limited edition shoes, price them higher to match their exclusivity.
Consider sales seasons – During peak seasons like back-to-school, lower prices to boost sales volume.
Monitoring sales data will show you which price points perform best for different shoes. Adjust pricing accordingly.
Step 5: Marketing Your Online Shoe Store in Kenya
Marketing is necessary for bringing in foot traffic to your online shoe store in Kenya. Some effective tactics include:
SEO marketing – Optimize your website and product pages for search. Target keywords related to your shoe niche and location. Provide useful content.
Google and Facebook Ads – Create targeted PPC and social media campaigns to reach potential shoe buyers. Retarget abandoned cart shoppers.
Influencer marketing – Collaborate with Kenyan bloggers, YouTubers and Instagram influencers to showcase your shoe brands.
Email marketing – Send promotional emails, newsletters and special deals to subscribers who consent. Avoid spamming.
Affiliate marketing – Partner with relevant websites and online communities to promote your store. Offer commissions on sales driven.
Content marketing – Create blogs, videos, guides etc. that provide value around your shoe niche. Avoid overt promotion.
PR and press releases – Get your shoe business featured on news sites, magazines and retail industry publications.
Social media engagement – Build an active community on platforms like Facebook, Instagram and Tiktoker through compelling visual content and conversations.
OTO targeting – Remarket to users who left your site without purchasing using retargeting ads. Encourage them to return.
The goal is driving qualified traffic that converts to sales. Analyze your analytics to see which marketing channels deliver results and focus your budget there.
Key Takeaways
Research and select a profitable shoe niche to sell online in the Kenyan market. Consider seasonality and local demand.
Build a professional-looking online shoe store using e-commerce platforms like Shopify. Focus on excellent user experience.
Carefully source shoe inventory from wholesale suppliers, local distributors and factories. Quality control is key.
Use competitor and operational cost analysis to determine optimal pricing for profits. Offer strategic discounts and promotions.
Implement diverse digital marketing strategies like SEO, social media ads, content creation and email marketing. Track conversions.
Continuously refine your shoe catalog, website and marketing based on data-driven insights and user feedback.
Selling shoes online in Kenya profitably requires identifying the right niche, sourcing good inventory, building brand trust through a quality website and store experience, competitive pricing backed by data, and targeted marketing strategies.
Follow these tips to sell shoes online in the growing Kenyan e-commerce market successfully.
Read also: