In this article, I will show you how to start online store business in Kenya.
See, 6 in 10 Kenyans agree to have bought something online in the recent weeks.
I know when you hear of that your mind goes to sites like Jumia and Kilimall. Well, you are not mistaken, these are the two most dominant online shopping websites in Kenya.
Ever looked at their business and wish you had your own?
Today, I will be taking you through the steps you need to take now to start an eCommerce company in Kenya fast.
Question is;
Is it too late for you to start an online store in Kenya?
According to Statista, the revenue of the eCommerce industry in Kenya is expected to hit around US$1,509m in 2021.
That's not all.
There is also a projected growth of 11.6%, which means that by the year 2025, the market should be generating around US$2,342 million.
To answer your question;
The best time to start an online store in Kenya was 20 years ago, and the second-best time is now (quoting the Chinese proverb)!
With that said, let's look at the steps you can take now to create an online store in Kenya.
How to start online store business in Kenya
Step 1: Pick a niche
A niche is a market you will be focusing on. 
See, instead of competing with the likes of Jumia in selling everything under the sun, you can have higher odds of success if you sell products in one niche.
To help you pick the niche, look at the things you already are using and enjoy. I mean, look into your life to draw inspiration.
Another way to handle this is by doing quick market research. Here, you are trying to look at what people are looking for the most but is low in supply.
That should be easy if you know how to use the internet to research. I mean, you are a Kenyan, how hard can that be when you can easily trace photos dating ages ago?.
Anyways, there are tools like Google Keyword Planner. It helps you understand what people are searching for (restrict your search to Kenya).
For example;

As you can see from the above screenshot, about 1K to 10K Kenyans are looking for toasters. 
And from the look of things, the competition is low.
The tool should help you identify popular topics in Kenya. 
Alternatively, you can use Google Trends.

With such a tool, you can instantly assess the popularity of a specific topic of your interest.
For example;
Say I am interested in selling electronics, how does it cope over time?

From the tool, you can easily tell the interest been dropping.
But things look like it's going to change.
Go ahead and play around with the tool.
Remember, you need to identify a niche you have an interest in and has adequate demand to warrant the investment.
Step 2: Decide between dropshipping or holding your own products
First, what is dropshipping in Kenya?
Dropshipping is an eCommerce business model where you only display pictures of products on your website, and no stock or inventory anywhere.
And then when you receive an order, you just forward it to the supplier, who in turn fulfills the order on your behalf.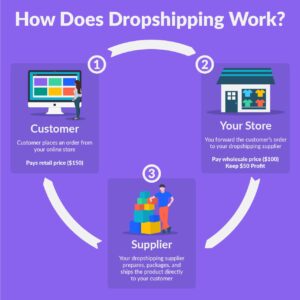 With such a model;
You don't own any stock

No deliveries from your end

All you have is a website showing products at retail prices
I bet you have seen Jumia Global, which is basically a simplified dropshipping model.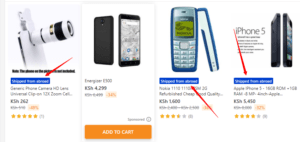 And that is why you have to pay upfront.
Want proof?
Take a look at this product on Jumia.

As you can see, it is going for Ksh 262.
What happens is, when you order this product, Jumia goes straight to Alibaba.com and buy this one at Ksh 100 apiece.

How much do they pocket?
It is hard to say considering the costs of shipping.
Either way, I bet they make a lot, upwards of 60% profit.
If they can do it, you can!
The alternative to this business model is where you actually buy stock and store it in your warehouses.
And whenever you receive an order, you pick the product from your warehouses, package it, and ship it.
You own the stock

Shipping is on you (of course, you transfer it to the customer)
Just look at what Jumia is doing. Even though these guys are employing both dropshipping and the last one.
Step 3: Decide on a business name and register your domain name
The next step to starting an online store business in Kenya is choosing a business name.
Now, this is where most of you get wheels spinning and not going anywhere.
Here are some tips to pick the best name;
The name should short and memorable. Just look at SkyGarden, Jumia, Kilimall, Zurimall, etc.

Avoid restricting yourself to the products you are selling. What happens when the time comes to expand to other items?
If this step overwhelms you, there are tools like BizNameWiz.com. 

Using them, here are some of the business name ideas I got;
Buy Better

Buy Boldness

Buy Buck

Buy Bulb

Buy Bunch
That's right, I used 'buy' as my seed keyword.
Go ahead and play with this tool.
Once you have the business name, it is time to register a domain name.
To do that, go here to register a domain in Kenya.

Step 4: Pick products to sell
If you already know the niche/market you want to target, picking products shouldn't be hard.
With this step, the tools I have introduced you to can help with this step.
For example;
If you are interested in selling appliances in Kenya, you can use the same tool, Keyword Planner to identify products people are looking for.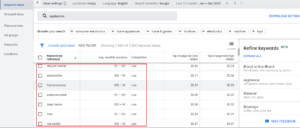 From my research, here are some of the most searched products in Kenya with low competition;
Air fryer

Refrigerator 

Washing machine

Vacuum cleaner

Juicer

Toaster 
Moving on with how to start online store business in Kenya.
Step 5: Create your website and add a shop section
Once you have the product at hand, the next step is building a website.
Now, you have two options here;
First, hire someone to do that for you.
eCommerce website designers in Kenya charge between Ksh 20K and 200K to get the job done.
The costs though will depend on the functionalities you want. 
I mean, if you want things like MPESA integration, that might cost a lot more.
An alternative is using an online store builder.
Lucky for you, we have Olitt.com.
I won't discuss more here, but basically, Olitt is a free website builder. It comes with a ton of website templates, yes, including ones designed for online stores.
To get this done, you will need a domain, yes, and web hosting account in Kenya.
Step 6: Set up a company and get a KRA tax certificate
Conduct business registration to obtain all the licenses you need to run a business in Kenya.
Also, registering as a company rather than operating as an individual will shield personal assets in case of lawsuits.
Step 7: Market your new online shop in Kenya
Now that your online shop is up and running, it is time to gear up and start marketing.
Use

blogging in Kenya

to boost your visibility through SEO.

Join social media accounts and maintain a consistent presence

Open a Google My Business page

Leverage

influencers in Kenya

to market your business.

Take advantage of advertising, either through Google Ads or social media ads.
Wrapping up
You have learned how to start online store business in Kenya.
Follow these steps to launch your business and start making money online in Kenya.