In this article, I will show you how to get organic traffic to your website.
In fact, these are the same steps used by thousands of website owners like you to drive pot loads of free traffic to their websites.
Here is the thing:
You have two ways to get traffic to your site;
One, spend money.
Here, you are simply paying people like Google and Facebook to direct people to your site.
Paid traffic is the best, as long as you have enough money to spend.
For example;
On Facebook, you can spend between Ksh 1 and 10 to get one person to click and read your website. This means that with a budget of Ksh 1K, you can get sizable eye-balls on your website.
But there is a problem.
What happens if you don't have money? Or worse, you have no idea how to set up these PPC campaigns?
Well, at this point, if you are like most people, you give up and go around talking about how online businesses don't work. Or, get an alternative way.
Free traffic.
This is where you get people to click and view your website without spending even a dime (well, for the most part, as you will see later).
And I have dedicated this article to show you steps of how to get free traffic.
How to get free traffic
There are several ways you can drive free traffic to your site;
Using social media

– here, you are simply sharing the links to your website on social media. For example: When you publish an article, you take the link and post it on Twitter. And when someone sees it, theta re more likely to click and read. The goal is to keep sharing your links on social media. Pay attention though, not to overdo it because you can be banned.

Posting on Forums – there are places like Quora where people go looking for answers on specific topics. If you can find one question related to your website, you can answer it and include a link back to your site.

Publishing on free sites like Medium. A good strategy is where you take a snapshot (exempt) of your article and publish it on Medium, LinkedIn Pulse, etc.

SEO – this is where you leverage search engines to get people to your site. Let's discuss how to achieve this.
Among other free website traffic sources, SEO is the best.
How to get organic traffic to your website
SEO simply refers to search engine optimization.
This is the process of making sure your web pages can be found by search engines (indexable).
And to do that, there are some things you need to take care of first.
But before we look at that, let's first understand how search engines work.
A search engine is an algorithm used to sort and present information in an orderly manner.
The best example is Google.com.
This is one of the leading search engines in the whole world, with billions of users turning to it for answers.
How Google search engine works
To learn how to get organic traffic to your website in Kenya, you need to understand how Google works.
First, you go to https://www.google.com/
On the search box, you type your question.
And then hit search (if you are using a mobile device).
Here, you will see a list of results.
They can be;
Depending on the type of question.
Now, what is important is the fact that the manner in which the answers have been presented isn't random at all.
What this means is that there is a reason why searchengineland.com is the number #1 result when you search 'What is SEO.'
And we are going to dissect it and understand exactly why and how you can apply it to your website.
Why is this important?
3.5 billion Google searches are made every day. And out of that, over 33% click on the first result?!
Here is a simple breakdown;
As you can, it is better to be among the top 10 results than not showing up at all.
The question is, how can you achieve this?
How to SEO your website
To understand how to get organic traffic to your website in Kenya, first, you need to understand your target keyword.
This is the query you want your website to show up for when searched online.
For example:
At Truehost, our primary keyword is web hosting in Kenya.
As such, we want to show up every time someone searches that on Google.
Back to you, how do you determine your primary target keyword?
I say primary because it is possible to target more than one keyword.
Back to Truehost example, we offer more than one service, domain, and VPS. For this reason, you will find our website showing up when you search for things like domain name registration in Kenya and VPS servers in Kenya.
For you, look at the topic of your website and think of the queries people will be using on search engines.
For example;
If your website is talking about real estate, you will be targeting real estate related keywords.
Here are examples;
Real estate in Kenya

Properties for sale in Kenya

Rentals in Kenya
Do you get the idea?
To get the keyword ideas, go to Google Keyword Planner. Pick get keyword ideas.
Just type the topic of your website onto the box as shown above and click Get Results.
You will get a list of results.
Look at the search volume (this is the number of people searching for the keyword per month).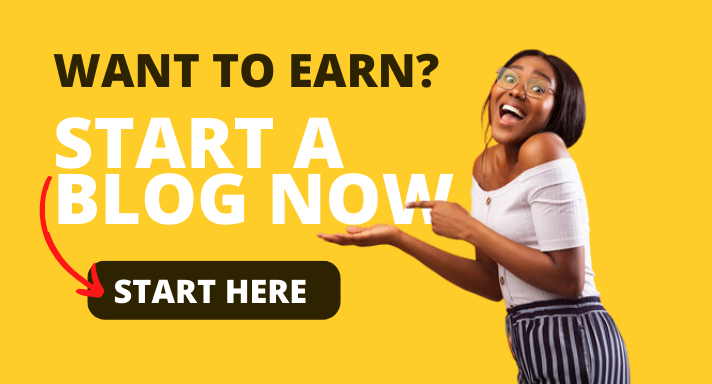 Also, look at the competition (other websites targeting the same keyword).
It is categorized into;
Low – meaning less competition

Medium – the competition is in between

High – a lot of websites are targeting the same keyword.
What should you do?
Pick a keyword with sizable search volume and low competition.
From our example, we can see this one right here; real estate companies in Kenya
1K to 10K people search for it every month in Kenya. And the competition is low. This means that your website can easily show up in the top 10.
Once you have the SEO keyword, it is time to optimize your website around it to increase your chances of ranking.
How to optimize an article for SEO
Here is the thing;
Websites do not rank, but pages.
Let me explain.
If you have a website, it is the specific pages that will show up on search results.
Now, to make that happen, you need to understand the difference between a post and a page.
A page – it is static and doesn't change often. For example, contact us page. You dont change it quite often, right?

Post – are presented chronologically (the latest on top). They are dynamic, meaning you can change a lot and often. An example is this page you are reading.
On your website, you will be using the posts more often.
Now, let's look at how to optimize an article for search engine.
First, you need to create a new post on your website dashboard.
If you are using WordPress, it should look like this one;
Click on Posts >> Add New
You will then see a blank canvas like the one below;
But if you are still using the old Classic Editor, it might look different.
Don't worry though, the things you will learn here still apply.
I am assuming that you have already written an article and all you have to do now is optimize it and publish it.
The first thing is to import your post to your editor.
All you have to do is copy and paste the content.
Have in mind that we are optimizing the article around the keyword; real estate companies in Kenya.
#1. Title
Your title should contain the keyword.
This is the first step when doing SEO.
Make sure the target keyword is on the title of the post or the page.
#2. Keyword in the First 100 words
Also, make sure the keyword is on the first 100 words of the article.
For example;
This website is about reviews in Kenya. And they are targeting the keyword 'best fridges to buy in Kenya.'
As you can see, the target keyword is in the title and the first 100 words.
Now, here is the trick to get this done.
Use the keyword on your first line or within the first paragraph.
#3. Repeat the keyword a number of times
Here, you are required to mention the target keyword a number of times throughout your article.
Depending on the size of your blog post, there is a specific number of keyword mentions to include.'
The rule is to use the keyword not more than 5 times on a standard article.
Overdoing it will get you penalized (keyword stuffing).
For example;
The article we mentioned above has over 1400 words.
And that is why the keyword has been used at most 8 times.
#4. Optimize the Images
Here, use the keyword or its synonyms on images you have used in the article.
To do that, you need to use the keyword in the alt text section.
Also, make sure the name of the image reflects the topic of the article.
#5. Internal and external links
This is the most important step in learning how to get organic traffic to your website in Kenya.
Your article should include at least one internal and external link. Let's look at an example on Olitt.com, a free website builder.
Internal link – this is a link pointing to a page within your website
External link – a link pointing to someone else's website. This can be achieved by linking to the sources of your information.
#6. Meta description and slug
Mention the keyword on your meta description and on the slug.
To help with this, you need to install and activate the Yoast SEO plugin.
The tool will guide you on how to achieve most of what we've talked about here.
To edit the meta description;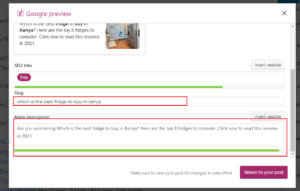 Click on Google Preview.
Use the keyword on the slug and the meta description. Let the plugin guide you on the number of words to write.
A meta description is a preview you see on Google.
Best SEO practices in Kenya
With this out of the way, here are some other things you can to understand how to get organic traffic to your website in Kenya.
Use subheadings on your article to make it scannable

Make it super helpful by including actionable information

Use images and other media

Write unique content. Avoid duplicating from other websites.
That is how to get organic traffic to your website in Kenya.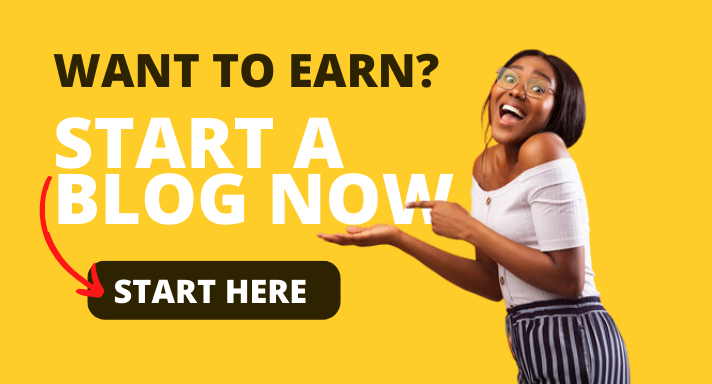 Here is how to get traffic fast.