In this post, we'll be talking about the alternatives of GoDaddy. Have you heard of GoDaddy and the services it provides? Well, GoDaddy is popular and has a good reputation.
We all are moving online; businesses, websites, and much more. Online however has security challenges that we need to take care of.
Every startup needs good planning. It's the foundation for you to grow and be successful. It would be hard growing when you always do anyhow.
GoDaddy?
It's an all-in-one platform that ensures that you get your idea online. They allow you to create a unique online presence.
It's a web host and a domain registrar, providing all you need for you to succeed online. GoDaddy also provides:
Free website builder

Domain registration and transfer

Web  hosting
Before we get into the alternatives of GoDaddy, let's have a look at it in Kenya
GoDaddy is designed for small businesses and individuals who are looking to start their own website or blog online who happen not to have time or technical knowledge. 
From GoDaddy, all you need is an email address and a credit card to start your hosting. Some of the best features that come with using GoDaddy as your host include:
Quick installation, 

Fast server speed

Simple blog templates for those who just want to write 

Store builder if you intend to start an online store. 
The average cost per month starts at £3.99 only so it's affordable even on a tight budget! Asides from hosting your site which they also offer, you can also get your domain name from them.
When signing up, they will guide you through the step-by-step process to choose and create a website that suits your business or personal needs. 
If you have never had a site before, their support team is readily available any time of the day so that even first-timers can launch a website in no time.  
Why GoDaddy?
Support 
GoDaddy makes sure you go live easily. They take pride in assisting the customer to get all that they need fast and in a secure way.
They have a 24/7 phone system that works all over the world. GoDaddy also provides a knowledge base, forum, and email support to help you solve the issues.
It makes sure that you transact smoothly.
Pricing
Have affordable plans, from as little as £3.99 /month you can host your website. Get your ideas online easily without hassle.
It also has no hidden charges as to the case with many other hosts. They make sure one is able to transact and share with the world.
Simplicity
Whether you are a beginner or experienced GoDaddy offers you the opportunity to become a designer. You don't need any special skills to create a website.
GoDaddy also guides you step by step until you have successfully acquired your service. Besides, they also have an artificial intelligence tool to help you out.
Features
GoDaddy has been around for a while. Besides, building a reputable name they have a ton of features that one can use from them.
Artificial Intelligent editor- allows you to create a website for free and fast.

Marketing tools- utilize your email with branding by GoDaddy.

Domain search tool- search all over the globe for the perfect domain from GoDaddy.

Security features- protect against malware and security-related attacks.

Backups- they perform backups for your data.
There is a lot one can talk about  GoDaddy. However, before we get to alternatives of GoDaddy let's talk of the pros and cons.
The pros and cons of GoDaddy
Pros
Simplicity- have a user-friendly design.

Affordable- makes it easy for everyone even with a tight budget.

Free stuff- GoDaddy is good with gifting, they offer Free SSLs and many others.
Cons
Have no live support- you have to call and talk to the sales representatives before being redirected.
GoDaddy is popular and has been there for many years. It has created a good name for itself and is the most widely used domain registrar for many businesses.
With its popularity, however, comes problems. To use a GoDaddy-hosted website on certain occasions requires an acceptable level of technical knowledge.
However, if you really have no idea what to do, then, in that case, it is probably best to use a service offering website builder like OLITT. 
OLITT makes it easy for you to set up a website without any tech knowledge. All you need is content with the design in mind and 10 minutes. You can get started on OLITT here.
However, if you are looking for something more customizable, then the best thing would be to go with a service provider that will be able to give you all these features at an affordable price. 
So let's just dive into alternatives of GoDaddy
It's one of the alternatives of GoDaddy in Kenya. Truehost is a web service provider that offers quality support and affordable pricing. 
They value the client's inputs. They ensure your issues are solved on time and provide a smooth transaction for your clients.
Truehost offers:
Hosting

Domains

Servers & VPS

Get a Free Website More

And more.
When most people think of web hosting, they think of the basic packages that will be more than enough for their simple site.
However, if you are looking to have a business website, you should consider going with Hostgator and let them handle all your hosting needs as it will give you some really great features. 
For example, the company offers a free store builder with Site Builder, which allows you to build an e-commerce website effortlessly.
Another thing is that HostGator can help address your high traffic requirements since it has its own in-house CDN network that can serve content on behalf of anyone who uses its service. 
Of course, this comes at a price as the company may not be budget-friendly but it will ensure higher uptime and speed for your website. 
The Classic Hostgator plan gives you the do-it-yourself option combined with good customer support. You can make your own website using their site builder or you can hire a web designer.
Another advantage of choosing Hostgator is that they provide excellent marketing tools and resources that will help generate leads organically without breaking the bank.
AWS (Amazon Web Services)
The second most popular choice of cloud hosting is AWS and it comes in at a close second place to Hostgator. The company has been in the business since 2006 and it offers top-notch services for your ecommerce website.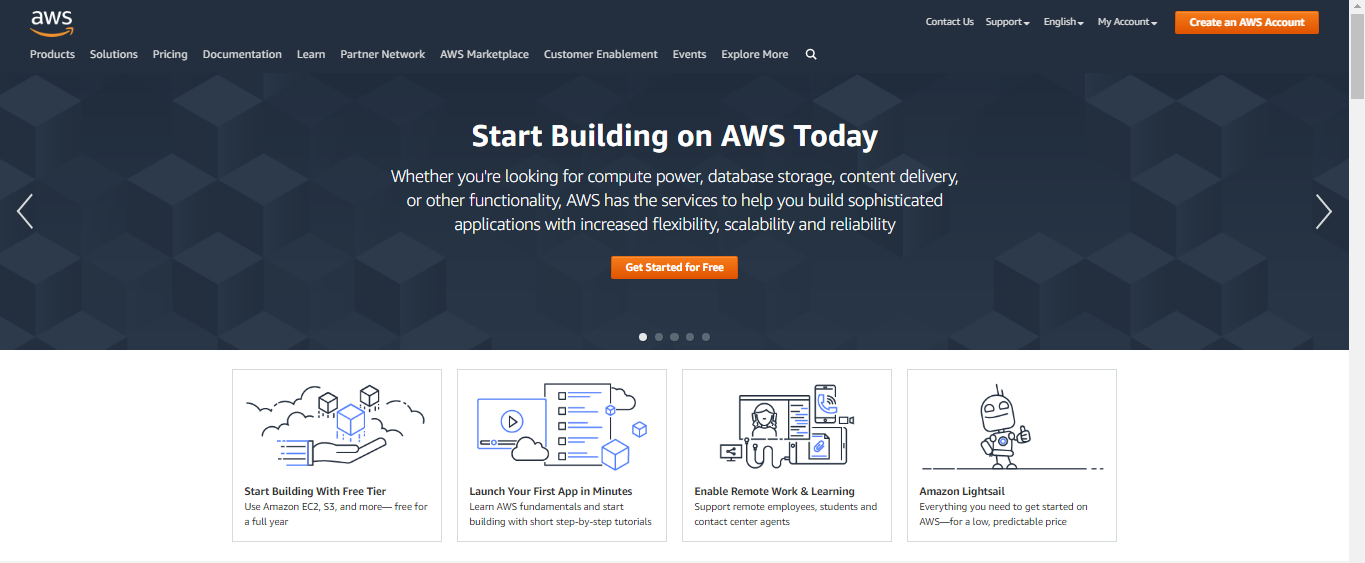 However, not everything is rosy with AWS as they are quite notorious for hiking prices out of nowhere without any prior warning.  You can go ahead and visit OLITT if you'd like to build a professional website for free.
Of course, there are those who will prefer this type of hosting. However, for a beginner, it's probably best to choose one that offers unlimited bandwidth and a better support team.
It's an excellent e-commerce solution that can be customized based on your needs or business type. 
You can either build it yourself using their drag and drop platform or opt for a premium designer to do this for you. 
They also provide several marketing templates which can help generate leads for your online store without too much hustle.
Save money in the long run on marketing expenses compared with other solutions available out there that cost thousands per month. 
You can also add a blog section to your store so that you could increase the quality of traffic and leads.
If you are looking for something simple, then Shopify is what you should be using in Kenya if you have no technical knowledge or time to build one yourself from scratch. 
There are also other examples like:
The above are just a few alternatives of GoDaddy in Kenya. Web hosting service providers are many all over the internet. However, one needs criteria before choosing to host with any hosts.